Adrift – Nude Roles of Actresses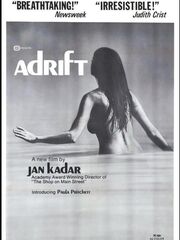 A fisherman saves Anada, a woman adrift, from drowning. He takes her to his home, and protects her. Eventually, she occupies a larger place than was to be expected. He commits adultery with her, but his own wife seems to be in love with the strange young woman.
Explore sexy and nude roles from "Adrift" on nuderole. The movie has 1 video in our archive. You can find breasts, butt, pussy, full frontal and sex scenes with Anada (Paula Pritchett).